July 9th, 2014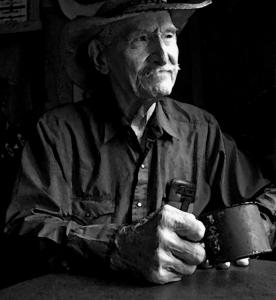 I have become friends with a 90 year old cowboy by the name of Texas Jack Glover and have written three, as yet unpublished, articles about his life. I was able to catch him with side light from a window where he was sitting. This print just won First Place in the National VA Creative Arts Festival in Milwaukee, WI. I will be flown for a five day all-expense paid to receive the gold medal in late October.

The same image, but in color, now is on the cover of a regional phone book just released recently.
November 26th, 2013
DID YOU KNOW? Abe Lincoln began to have second thoughts about his son's pet turkey. Seeing how large it had grown, Abe began to openly speculate about baking the pet turkey. Several comments were made which led to a quick response from his son Tad. Honest Abe was in the trap with both feet...the only way out was for him to issue a Presidential Pardon for the turkey to save it's life. Every year since, each successive president;in memory of Abraham Lincoln, grants a pardon to the turkey which the National Turkey Federation presents to the the current President in residence. They deliver one live and two dressed turkeys to the White House. The live one is pardoned and lives out it's life on a historic farm. The others are gratefully eaten.
November 22nd, 2013
Did you know that the President of the US grants the turkey a Presidential Pardon each year? Have you heard how the Macy's Parade began? How about the turkey industry hiring Norman Rockwell to promote the serving of turkey for holiday tables through his art. Or the legend of Tukki-Tukki? Click this link to download my book 'Turkey & Swiss' for only eight bits ($2.00). You'll not only laugh through each cartoon, but you'll be my friend. Happy Tryptophane!





September 28th, 2011
I attended Concordia University in St. Paul for a year about 20 years ago. My project for an Anthropology class was to sit in a tattoo parlor every Saturday night for some length of time. I made a lengthy questionaire and armed with that I went, sat and observed. Although it was illegal, more than 85% of the clients were minors.

Concordia is a Christian school and St. Paul; at that time, was the headquarters of Billy Graham, one of America's most well known evangelists.

These kids had no idea who he was.

I later studied to become a Drug and Alcohol counselor, about seven years ago. The tatoo, and piercing of body parts seemed to be the rage among those in their late teens to late twenties. I suggested to our son that he might consider becoming a skin doctor specialing in tattoo removal.

Today, it still seems to fascinate the general public, now with older people even in their fifties. One tattoo no longer suffices, there must be numerous.

This image, not very good due to reflections, was an attempt on my part to illustrate the obsession America seems to have.

Will pet tatooing become the next rage?
September 15th, 2011
A crime wave recently struck Kerrville, Texas. Throughout one night cryptic, stencilled images were spray painted all over the city. Only one person intuitively knew the true meaning of them...not the public, not the police, not even the spray painter...yes me alone, but I'm not telling.

Oh, Excuse me a man with a silver badge is knocking on the door..I'll be back later.